This shop has been compensated by Collective Bias, Inc. and its advertiser. All opinions are mine alone. #ad #PurinaMysteries #CollectiveBias
Peanut is my most trusted and helpful travel companion and he never complains about anything. To say he is always ready to go is an understatement. Peanut is ALWAYS ready to go. There, that's more accurate. Because I value him as I do all of my family members, I want the best for him when it comes to food and treats. Peanut has been with me for about 2 1/2 years now and he works hard to keep me safe and happy. I've yet to see him when he's not shaking his little tail. There are very few photos I've taken where I can't actually see his tail because it's always wagging. Peanut is happy and healthy and it's my responsibility to keep him that way.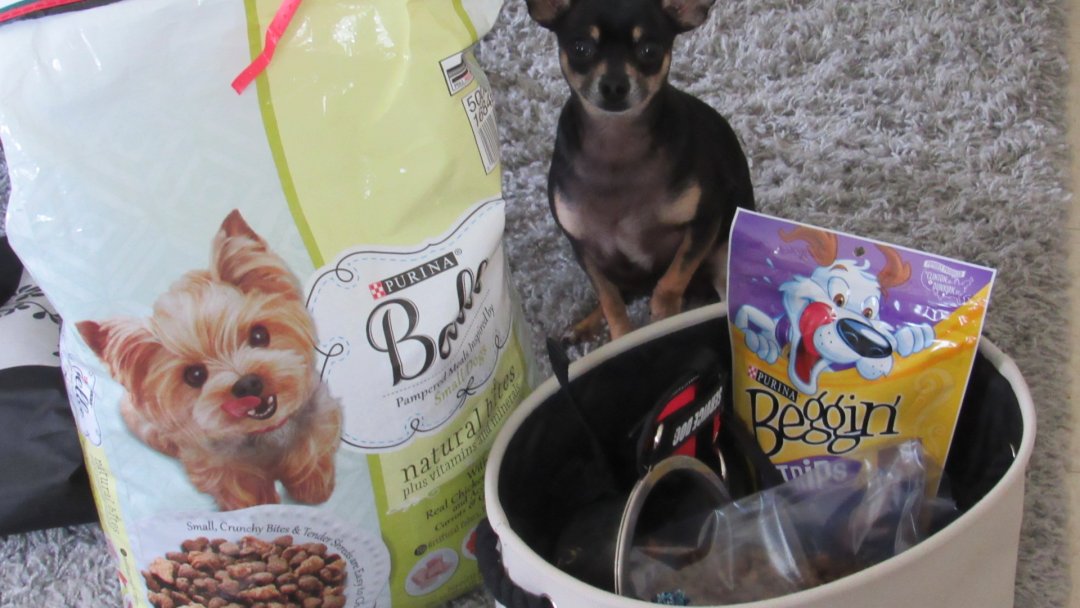 No matter how bad of a pain day I'm having he can make me lol by being silly. He'll start running around in circles, chasing his tail and just being silly until I'm laughing so hard I can't stop. He can sense everything that is going on with me, from happy to sad, from pain to stress, from being tired to having a bad day. Peanut is with me 24/7 and he is tireless. He takes his role in my life very seriously and I love to reward him with his favorite treats, specifically Purina® Beggin' Strips. He loves having his belly rubbed so he gets lots of belly rubs as well.
Every time I turn around, he's gobbled up his favorite food and treats and I head to PetSmart to stock up again. When you visit  PetSmart during the month of June to re-stock your cupboards you'll receive a $10 PetSmart gift card when you purchase $40 worth of Purina products.  Keep reading to see how PetSmart helps me provide the best for my dog with their Purina® Bella Small Dog Food and Purina® Beggin' and see how you can get a $10 PetSmart gift card just by shopping for your favorite Purina pet food.
With summer upon us, we do a lot of traveling. I wanted to share a tutorial on how to pack for a day of hiking with your pet. Before you go anywhere, make sure you have your pet's health certificate and identification tag with you at all times. You never know what could happen and it's better to have it handy. I also always make sure I know where a vet in the area is before we travel.
Before we get into your gift card redemption, because we all know how quickly the delicious dog food goes, I wanted to share a tutorial on how to pack for a day of hiking with a pet.
Supplies:
Health Certificate
Identification Tag
Bottled Water
Pet Food
Pet Treats
Travel Bed
Food and Water Dishes
Pet Wipes
Leash
Harness
Poop Bags
Picture of Your Pet
My favorite PetSmart is in Albany, Georgia. I wish I could nominate them for some type of special event. Everyone there is super fun and that always makes my trip all the more special. Yes, that's an employee photo bomber in the background, lol. He was cracking me up the entire time I was taking the photo making my visit another memorable experience.
Are you ready to get your gift card?
To redeem your $10 Gift Card (physical $10 Petsmart gift card ) purchase $40 of Purina products at Petsmart from 6/1 – 6/30. You can redeem more GC's everytime you make a $40 purchases during the time allotted.
Dog:
Purina® Dog Chow®
Purina® Beneful®
Purina ONE®
Purina® Bella Small Dog Food

Cat:
Purina® Muse
Purina ONE
Purina® TIDY CATS® Litter

Cat Treats:
Purina® Friskies® Party Mix

Dog Treats:
Purina® Beggin'
After you make your purchase, head on over to the PetSmart social hub to redeem your mail in $10 PetSmart gift card. Add your name and mailing information and then on the next page browse your computer for a photo or scan of your receipt that you'll need to have handy. Then select to upload it. All that's left is to wait for your gift card to arrive in the mail so you can use it on your next trip to PetSmart.
Shop between 6/1 – 6/30 and make sure you upload your receipt up until 7/9/17.
Happy shopping and a big "woof woof" from Peanut.