This shop has been compensated by Collective Bias, Inc. and its advertiser. All opinions are mine alone. #TryTENAMEN #CollectiveBias
Ever since I was a small child, I knew the career path I wanted to follow. Nursing. I've always had this desire to take care of everyone so no one was surprised when I went to college and selected nursing as my career. Over the years, that desire hasn't diminished at all. Following a spine accident that left me disabled, I had to give up nursing and I became the patient. I've been slowly turning that around by volunteering to help those who need it the most. And that is how I met Mr. G. –  Mr. G. is sort of an adopted family member.  I've adopted him in the sense that I care about him and the care he receives as an elderly patient.    He wasn't born into our family but he is family, at least as far as I'm concerned.
To learn more and/or order TENA® MEN™ Protective Shield, hover over the below image and click on the tags that will appear. Go ahead and try it.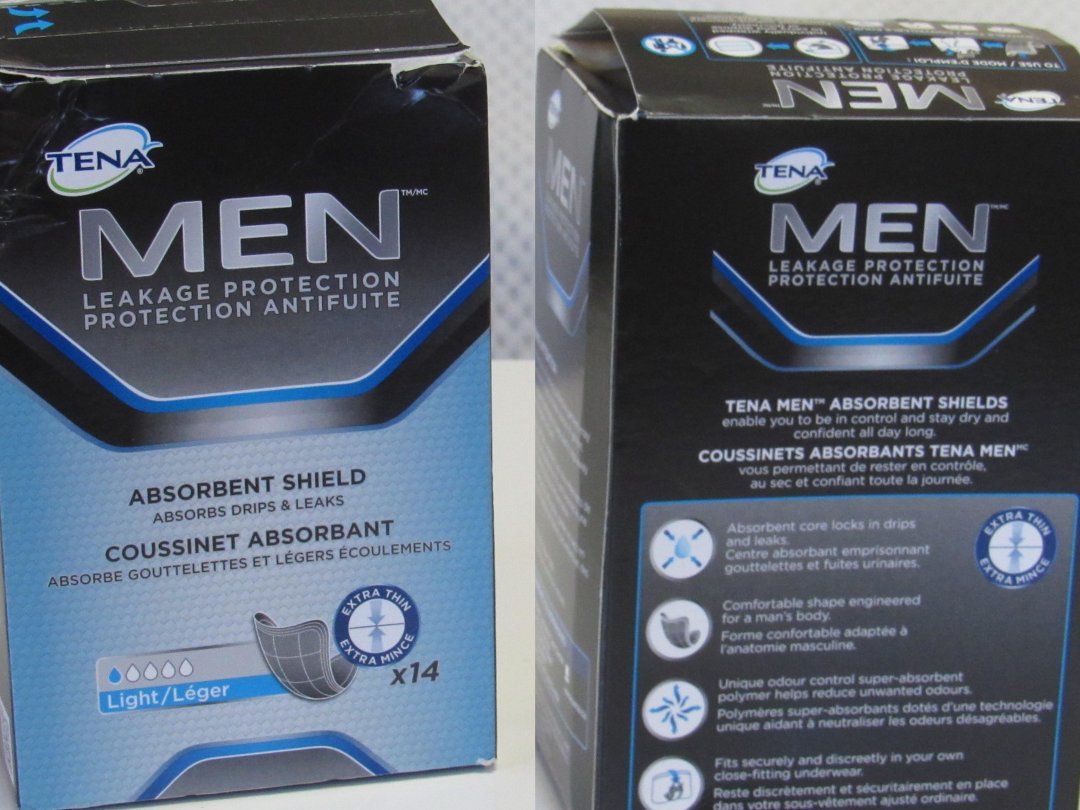 As some of you are aware, incontinence is an issue for a lot of elderly people including Mr. G. In the beginning, he was embarrassed about this issue but I've managed to make him understand that he's not alone. To date, there are an estimated 3.4 million men experiencing the Unexpected Leak™.  Not only has he come around to my way of thinking, and is getting out more and more, I've found a product that gives him more freedom without the diaper feel.  TENA® MEN™ Protective Shield.  I've added it to the #1 product to purchase when shopping for an elderly relative.
The #1 reason I am enamored with the NEW TENA® MEN™ Protective Shield is that it is working to give Mr. G. confidence and make his life a little easier.  The new TENA® MEN™ Protective Shield is ultra-thin, secure with a cup shape that follows the male anatomy for a secure fit that provides light protection.  That's always important to me when it comes to elderly family members.  No one wants to experience leakage without protection when they are away from home.  Or even when they are home.  TENA® MEN™ Protective Shields protects Mr. G. against light drips and dribbles. You can find the product on the incontinence aisle at CVS.
Follow TENA® MEN™ Protective Shield on Facebook!
While you are at CVS to pick up your TENA® MEN™ Protective Shields, be sure to pick up all 5 of my top picks below for setting up a home for an elderly man. FYI, during the week of 10/22/2017 Buy 1 TENA product at CVS, Get 1 @ 50 % OFF Valid In-Store & Online!
#1 TENA® MEN™ Protective Shield
Anatomically designed for men
Ultra absorbent core for dryness and effective leakage protection
Soft, cloth-like outer cover provides comfort and discretion
Advanced odor protection
Adhesive strips for added security
Length = 7"
#2 Facial Tissue
With cold weather comes colds and runny noses. Pick a brand of tissue that contains lotion which helps keep noses from getting chapped with multiple uses.
#3 Heatwraps, Powerful Pain Relief Patches
With winter on the way, most older persons experience pain of some type. Heat or cold wraps are usually odorless and effective at helping with pain anywhere from back to knees.
#4 Daily Moisturizing Lotion
Pick a lotion that provides hydration and can be used for everyone, that's good for sensitive skin, and, is fragrance-free. Mr. G. is sensitive to products that have a fragrance so I'm picky about the lotion I purchase.
#5 Lipbalm
No one wants to have chapped lips any time of the year but especially during the cold winter months. Be sure to pick a product that provides moisture and is long lasting.
Is there anything not on my list that I should add that you buy frequently for an older family male member? Have you ever purchased a box of TENA® MEN™ Protective Shield for a family member?