This shop has been compensated by Collective Bias, Inc. and its advertiser. All opinions are mine alone.  #RegisteringForBaby #CollectiveBias
I have had a lot of fun these past couple of weeks creating a Target Registry for Tiffany.  When I was expecting, I didn't have access to a computer and didn't even know registries were a thing.  Now that I know they are, I help friends and family members get theirs started at Target.  I think it makes more sense to create a registry to let others know what you will need instead of everyone showing up with the same products at the baby shower.  That happened to me.  I had more onesies/bibs/spit diapers than I ever used.
What I didn't have enough of are some of the following products. FYI, click on my shoppable image to go directly to the products.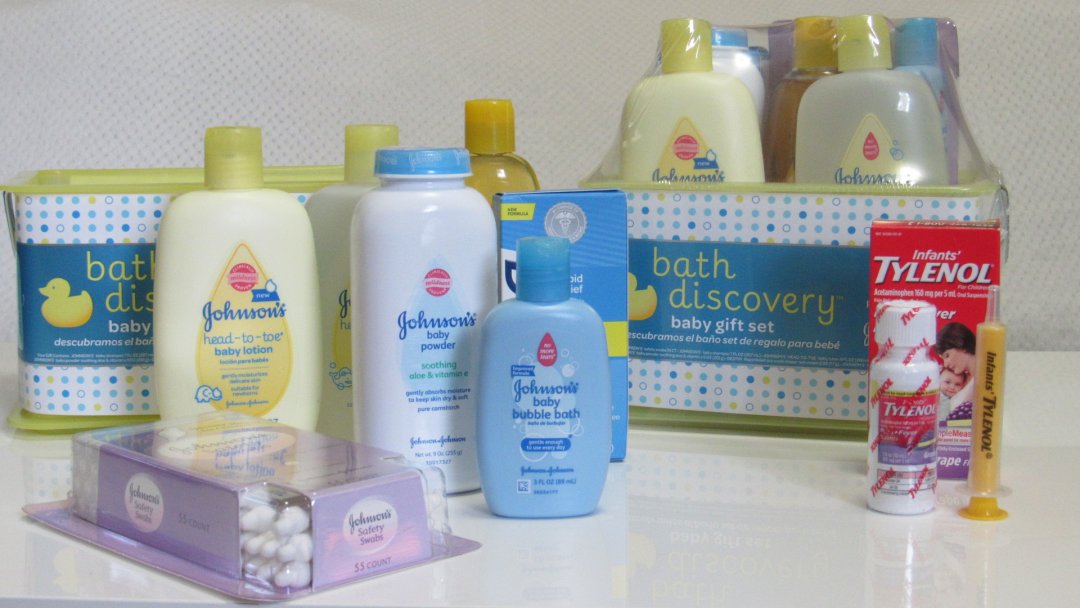 As previously mentioned, what I wished I had received were more products that I'd use on a daily basis like  Johnson's® Bath Discovery Sets,  Aveeno® Baby Daily Moisture Regimen Pack and Infant TYLENOL®.  So when I started setting up Tiffany's registry, I knew these were products I was going to buy her. I went shopping at Target on the baby isles for a couple of these items that I knew she'd use a lot of based on items I used a lot of.
I love that these are in a gift set so all I have to do is wrap and give.
Tiffany (and yours truly) has been adding products to her registry that she knows she'll use. One of the things she really likes about the Target Registry is that she also gets to see items she wouldn't have thought of while she's adding products, from their recommended products. She can also manage everything from her registry including her checklist. How about that for being organized?
Perks of setting up a Target baby registry include:
Target registry app you can download that's compatible with iPhone and Android.
Registrants will receive a Welcome kit – pick up your gift at Guest Services for $50 worth of coupons & handpicked samples.
Registrants will receive a 15% off discount that will be emailed 8 weeks before their arrival date to provide savings on anything left on the registry.
Target offers easy returns and exchanges up to a year after your arrival date.
Target Baby registry offers Group gifting, making it easy for guests to contribute to larger items.
With Gift tracking, registrants can match gifts to guests and manage their thank you list.
Are you or someone you know expecting? If so, have you set up a Target Registry yet or are you planning to? What's the #1 items or items you used on a daily basis?
For those of you who will be hosting baby showers in the near future, I have compiled 5 Tips for the Perfect Baby Shower.
1. The first thing I do when I host any kind of event is to secure a good photographer for the event. Although a baby shower is only a minute part of reality, photos last forever. As soon as I know the date, I call a photographer that I've worked with a lot in the past, to make sure he is available on that date. I do have a backup photographer in the event anything should come up. Having memories captured beautifully is really important to me which is why I have it listed as the first tip.
2. The second tip to planning the perfect baby shower would be to make a guest list and find out if anyone on the list is allergic to any foods or has a food preference. I give everyone a few days after they receive the invitations, a call, to find out about any potential issues with any of the foods I'll be serving. It doesn't take long to make a call to all of the guests. I'd rather make the calls myself to be certain there aren't going to be any issues with the menu. Noone wants to go to a party and watch everyone else eating. All menus should cater to all guests attending.
3. I don't play a lot of baby shower games at parties I host. I know that those who do are like, what? To some, the games make the shower, to me, they don't. I'd rather spend that time letting my guests create a useful craft. It has to be something that the new mom can use when her bundle of joy arrives. One craft that is always a hit is to decorate onesies for baby to be. I buy enough white onesies for each guest and material for sewing, fabric paint, fabric glue and a lot of other supplies. I'm always amazed at how they turn out. Even those that claim they aren't crafty have created some adorable designs. I always provide a sewing machine but usually, only those that are more experienced with crafting use it to sew the designs onto the onesies.
4. The next tip I have is to keep it simple when it comes to the decorations. They don't have to cost a fortune to be cute. And I learned early on, that guests feel more comfortable in surroundings when the decorations are more relaxed and less cluttered. If the baby shower is close to a holiday, remove the holiday decorations for the event. Everything should be focused on mom to be. Make sure you have a designated place for the gifts so they aren't adding clutter to a beautifully decorated area. I usually buy a bassinet or a Moses basket as a hostess gift and have it set up and by the door for everyone to put their gifts in. Both are very inexpensive and can be used for several months after baby's birth.
5. The last tip I have is to relax the day of the party. Go over everything to make sure you haven't forgotten anything and just relax. No one wants to go to a party hosted by nervous Nellie. Parties are meant to be fun and you and your guests will have more fun if you are relaxed. Have a cup of tea. Read a book. Watch a movie. Take a long bath. Whatever it is that makes you relax, do it.
Do you have any tips you'd like to share about hosting a baby shower? I'd love to read about them in the comments.